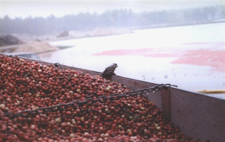 Willows Cranberries
2667 Cranberry Highway
Wareham, MA 02571

Phone: 508-295-9990
Fax: 508-295-5085
Email: willowscranberries@verizon.net
Located within 2 miles of Rte. 195 & 495 on Cranberry Highway (Route 28). A family owned business dedicated to growing and producing the freshest, most flavorful cranberries and cranberry products to the industry for domestic and foreign use. Can pick-up fresh cranberries at farm during harvest season. Open 9AM - 4PM during the fall.
See the Harvest Trail Guide, created by the Cape Cod Cranberry Growers' Association for more details on watching a cranberry harvest and a map of where to find Wilows Cranberries.